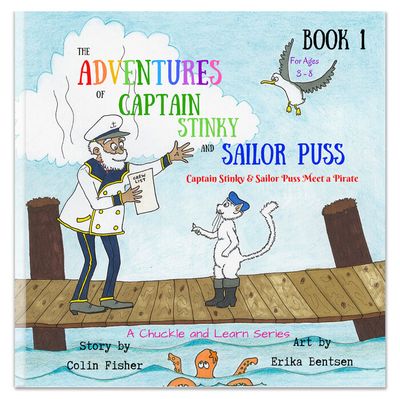 The Adventures of Captain Stinky and Sailor Puss - Captain Stinky and Sailor Puss Meet a Pirate
$14.99
Price $US dollars

By Colin John Fisher (Author), Erika Bentsen (Illustrator)

A Captain afraid to bathe. A cat who likes to tell lies.
Captain Stinky's ship is loaded with Rainbow Lollypops to sell on far away islands, but trouble begins when Sailor Puss joins the crew. Will Sailor Puss learn why telling lies is very bad before it is too late?
Set sail with Captain Stinky and his crew as they deliver Rainbow Lollypops to distant lands and battle pirates trying to capture their cargo. Learn parts of a sailing ship with a bonus Captain's Quiz at the end of the book.
SKU: CSSPBK1